Are you going to be a bride soon? Do you also have a fantasy to take the entry to capture crowd's eye and take charge of being the center of attraction? Then, here are the top 7 ideas that you should consider for your entry in your own wedding to showcase your swag amongst the guests and family while keeping up with your style quotient.
1. Smoke Bombs Entry
Why give a simple ballet when you can create a mystery. For adding drama to your entry, you can take the help of your siblings, cousins, and friends to explode the smoke bombs in their hands. And, if you think this can be unsafe don't worry, smoke bombs are perfectly fine and cool to go with the outdoor weddings, and this also lessens the chances of confetti falling and creating the mess.
2. Entering with Bridesmaids
Let your bridesmaids help you and play their part to create your entry memorable by holding lamps in their hands and sprinkling flowers while you enter with them by being in the center point.
3. Floral Bed Spread over the top
One of the best idea to go with and suitable enough for every bride… Whether you imagine for a princess style entry or pre-recorded vows along with the background music, Flower bed spread carried by your friends over your head, and everyone is surrounding you to make you feel special is irresistible to take off the eyes.
4. Biker Bride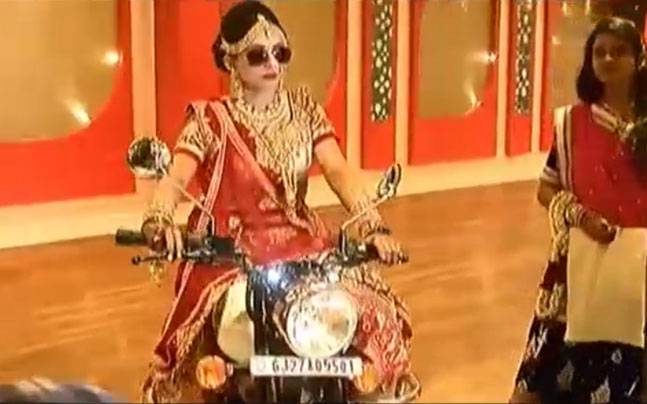 If you are a bride, who loves to ride a bike or if you imagine yourself same as like Kareena Kapoor in the last scene of 3 idiots, then this kind of entry is just meant for you. Stunning yet a rocking bridal entry that has swag beyond expectations of your guests and crowd present on the wedding. P.S. you can also opt vintage car for your entry to add the grace to your image of "SWAG WALI BRIDE."
5. Dancing Bride
Entering with your girlfriends while dancing is a new hue for all the brides nowadays. With the bang of sounds of Dhol, Nagade, and Shehnai, this is the entry for the brides who love to increase the craze on their own and jump on the board with the hell lot of fun.
6. Heavenly entry in Traditional Palanquin
Ethnic yet beautiful, a bridal entry that can add the charm of calling you like the royal bride! A dream entry in a traditional palanquin with the shower of flowers will make you feel special and leave a memorable impact for the lifetime. Also, if you are comfortable, you can opt a chariot with white horses or an elephant ride as per your desire.
7. Pet Or Kids Announcing Bride Arrival
Your pet or little niece and nephew will be playing the best part if you think of this entry. You can teach them to carry a signboard guiding your way on to the venue. And, we assure this entry will be something that will hit the emotional aspect and people would not resist saying "AWW."
So, all the brides to be, these are some of the ideas that you can go for to make your bridal entry special and your big day eternal.
Follow my blog with Bloglovin