Is your wedding going to be in summer or over the hot destinations where the swimming pool is highly recommended? Since, 3-4 years, parties at the Poolside have been in trend, and many couples wish to keep it if they are going to have a destination wedding.
Even for intimate royal gatherings, people desire to have a Pool Party. So, keeping this in mind while brainstorming, we decided to share with you some of the rocking pool party ideas that you can follow to make your event or wedding fabulous and memorable for your guests!
1. Get fun floaters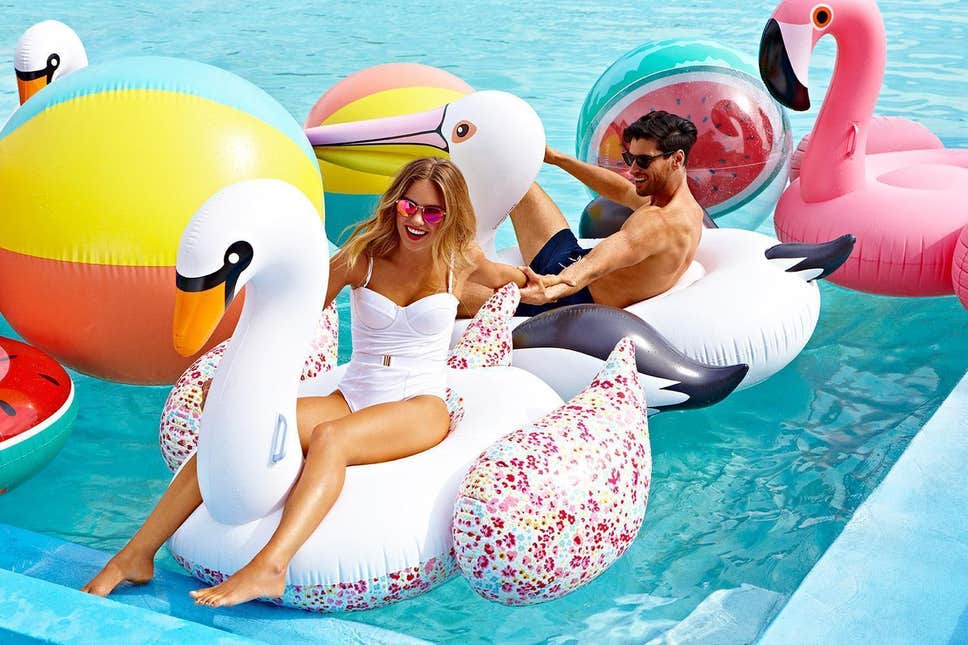 A pool party is incomplete without the floaters and different types of accessories like balls, swim rings, and various cool floaties that are super fun in photographs too.
2. Drinks on priority
Ahaa! Now, this is something everyone is excited for! Variants of Cocktails and Mocktails, which are quite a way essential for Instagram fanatics, photographers, and other people in your party to enjoy and beat the heat.
3. Splashing games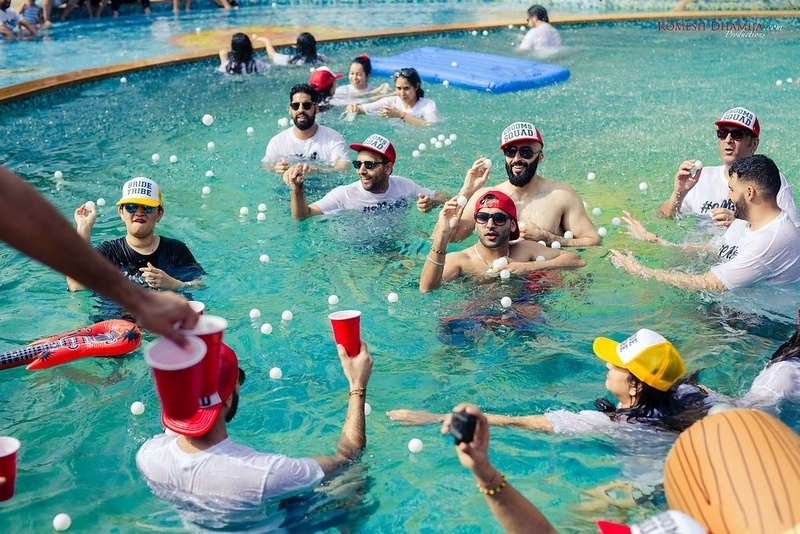 Image Source:Romesh Dhamija Productions
Playing adds an extra charm to your pool party. So, don't forget to arrange ground and water games for guests to make the event even better.
4. Organize a Photo Booth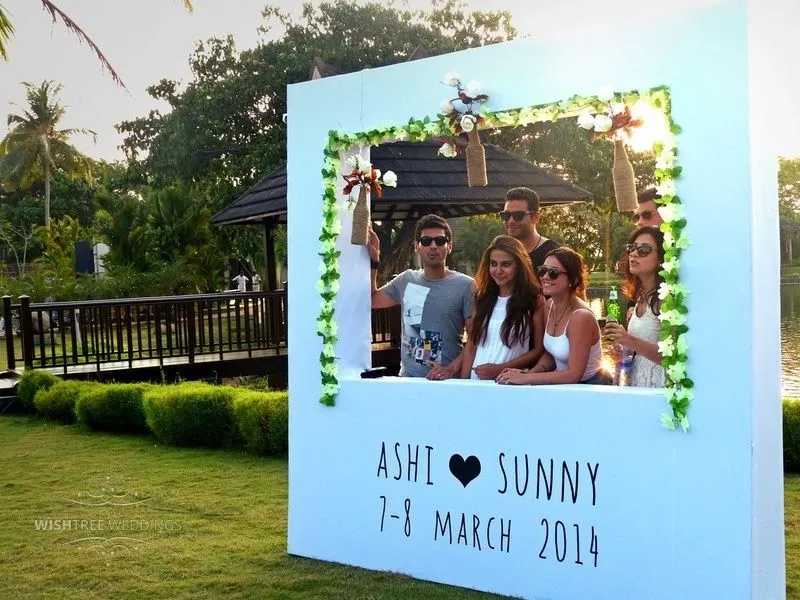 Image Source:Wishtree Weddings
How about a selfie booth along with photography props? Sounds fun, isn't' it! Well, this is quite classy as you can try this even on other wedding events too.
5. Swimming oriented dress code
Keep a dress code for guests whether they are girls, boys, women, or men. Before sending the invitation card, put a note of wearing a swimming costume that is comfortable as per their convenience.
6. Custom item giveaways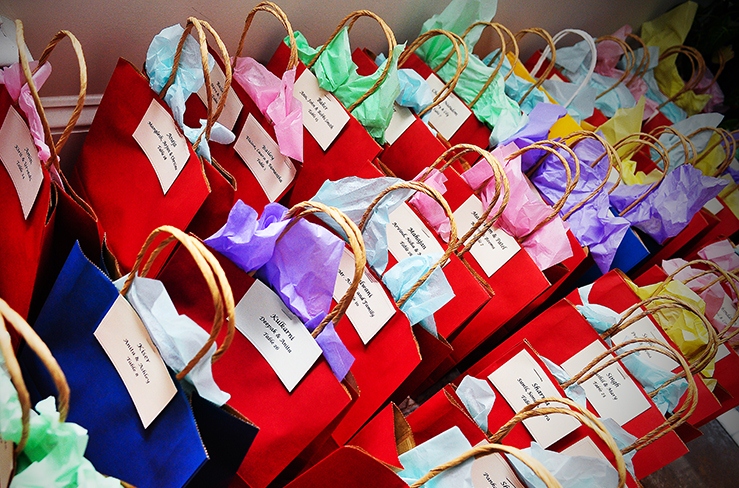 One of the latest trends that have been increasing from the past few years is customized wedding items that you can present to your guests as the return gifts. Exciting giveaways like T-Shirts, Caps, or any other stuff can be on the lists while binding it up in Nautical Theme, and you can make it available in your pool party.
7. Coordinated squad outfits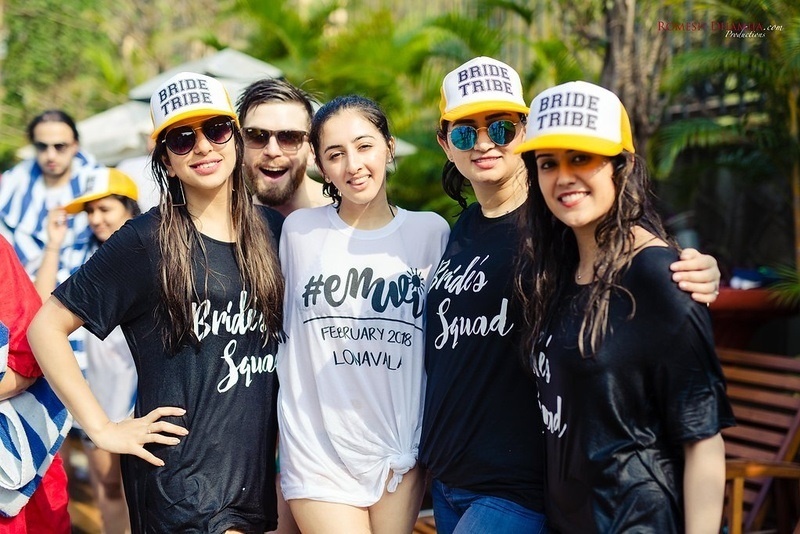 Image Source:Romesh Dhamija Productions
Your squad should look little contrary from the rest of the guests. Whether you are a host or hostess, you should have coordinated outfits for your particular mates. Notably, at the time of destination wedding, if you are going to have one function of Pool Party, then this is the best time to get same apparels to add charm to photographs.
8. Don't forget the poolside lounger and Canopies
If you have a summer wedding or your guests have arrived lately from a long journey and going to attend the party right away, it's necessary to keep relaxing poolside loungers and canopies. Though it is ideal for every guest to chill out, sit back, and indulge self into amusement. Also, it can indeed be a good activity for lazy lads.
9. Something to use right on the spot!
Few of the guests might forget sunscreen, shades, or not willing to bring and use their expensive ones. So, you can do the favors by providing them budgeted sunglasses and sunblock creams.
10. Water-resistant décor
The decoration of the party should be damn amazing to give everyone the pool party goals and hashtag to post and have the hangover even after the event is over.
11. Hot piping starters and food
Last yet not least, mouth-watering food is a must-have to delight their Bon appetite! You can keep the usual but alluring dishes like pancakes, fritters, salads, or live barbecue counter to serve grilled variants of veg & non-veg as per the menu.
Fellas! Here we have suggested you the best pool party ideas to follow on destination weddings and royal events. If you wanted to plan something like this for your guests, feel free to share your query with our best wedding and event planners.