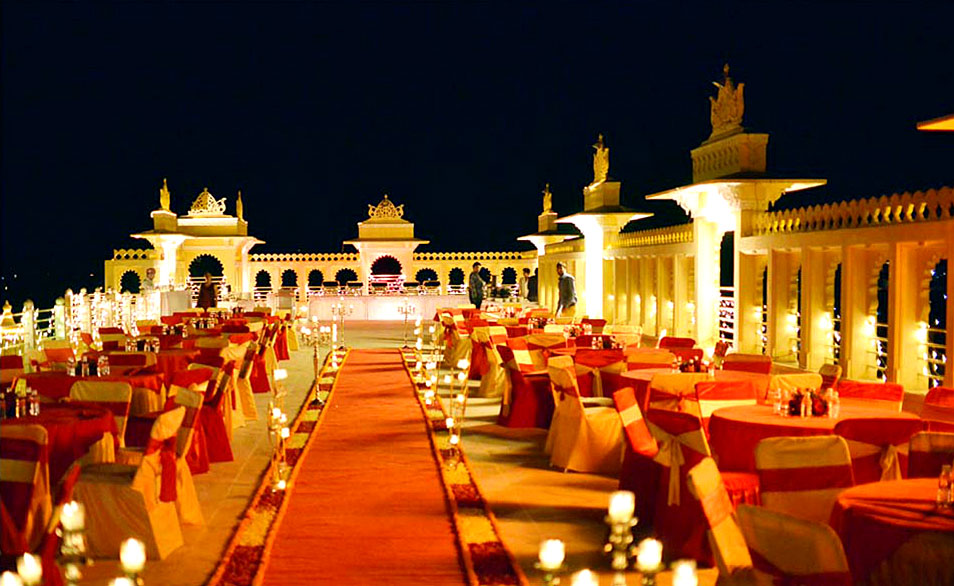 A wedding is about celebrating the love and lifelong commitment between two hearts which unites families and friends to form an endless bond. It is also about making fun -filled memories that transcend the boundaries of love and friendship turning it into 'one big happy family'! Planning a wedding can be exhilarating and exhausting at the same time. There a number of items on the check-list and ticking off each item can be quite an intimidating task for the couple. Wedding venue in udaipur, Wedding Planner in udaipur
One of the major steps that lay the foundation for all the wedding planning tasks is the selection of a perfect location! The location works as a cornerstone in the complete process of wedding planning as it is not only the favorable choice of place for the scared weddings but also offers the backdrop for a plethora of rituals and ceremonies. The atmosphere of the location is also very important as that is the setting where the families, friends and invitees meet and greet each other for the first time and form new relationships, bonds and memories that last a lifetime.
While zeroing in on an ideal location for not only the wedding but all the celebrations leading up to it is the first pre-requisite in the process. Depending on whether it is a large scale destination-wedding concept or a close intimate affair, a location that can house the required number of guests should be selected.
If it is a grand celebration with a high guest-list, then accommodating the guests also needs to be factored in while choosing the wedding venue. In such a case, a hotel with lavish indoor and outdoor spaces like the The Oberoi Udaivilas Hotel Udaipur would cater to all the essential arrangements and desires and preferences of the guests.
The wedding feast is also a tremendously vital element during Indian weddings! The food and beverage preparations need to be planned well in advance to deliver guests with the ultimate culinary experience that includes an array of cuisines, dessert counters, cocktails, buffet counters, live cooking stations, customizations and much more.
For guests to enjoy in the holiday, the availability of various services around the place of marriage, acts as an added advantage when choosing a location. Outdoor pool, fun activities, various food & beverage outlets, room-service, get-together brunches, live cooking stations, outdoor lawns, spa service etc.. could be a few elements that add to the entertainment value of the wedding.
A pictorial location with stunning views and different types of landscapes provides for numerous photo-ops for the couple, friends and families thus making your wedding picture perfect at every moment!