Have you ever thought to get married in a heritage city? If yes! Then, this is something you should not switch before reading. So far, wedding venues in Udaipur, Jodhpur, Pushkar, Jaipur, etc. have been on our list, when it comes to traditional royal weddings or destination ones.
But, coming across to one of the oldest city, Ajmer in the regions of Rajasthan, we decided to highlight a few of the amazing wedding venues in Ajmer for your dream ceremony.
Check out the locations below, if you are going to get married soon in the coming months and waiting to create the story of your D-day memorable for everyone.
1. Mansingh Palace
Located in the outskirts of Ajmer, this magnificent 5-star property is one of the ideal destination wedding venues providing the blend of luxury, comfort, and unrivaled services. The upscale hotel is the replica of an 18th-century fortress and has a captivating architecture that bestows the perfect backdrop of history with modern highlights.
This palace also features a restaurant, bar, lounge, Wi-Fi, banquet hall, along with 24-hours room services. For the wedding, Mansingh Palace can accommodate a maximum of 250 people in their lawns and individual event spaces.
2. Paradizzo Resort
For your perfect wedding accommodation, this place is fit to facilitate your guests. You can assemble up to 3000 guests here for any matrimonial ceremony. With 40 rooms, different lawns, banquet space, poolside sitting, and other amenities, Paradizzo Resort is one of the best wedding venues in the outskirts of Ajmer.
3. Hotel Grand Xenia
With an array of enhanced facilities, Hotel Grand Xenia assures budgeted requirements for a destination wedding. The hotel can accommodate from 100 to 500 guests at a time in their equipped in a spacious environment. The venue offers lawns, banquet hall, and terrace area for all your pre-wedding, marriage, and post-wedding functions.
4. Pratap Mahal, IHCL SeleQtions
This palatial property in Ajmer is an ideal 5-star destination for the couples to have a fairytale wedding. Pratap Mahal – IHCL SeleQtions is an opulent Mughal-style architecture resort featured with upgraded suites, rooftop terraces, gardens, spa, restaurant, and an outdoor pool with other meeting and event spaces within the property. This wedding location has a magnificent backdrop of Aravalli Hills to ensure the picturesque view in the entire ceremonies happening in daytime.
5. The Gateway Resort – By Taj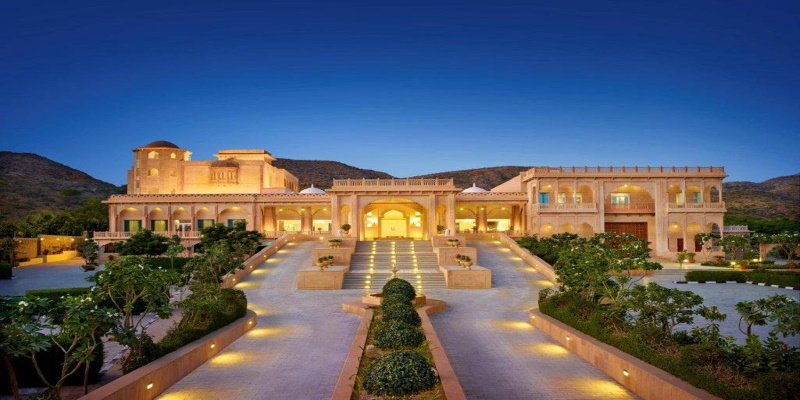 One of the Taj Properties, the Gateway Resort is designed for the modern nomads as it hosts guests with crisp and courteous services throughout the seasons. For beautiful and contemporary experience, you can have this astonishing five-star property in your list as your wedding destination in Ajmer. Equipped with 81 rooms, the venue offers banquet hall, lawn space, swimming pool, and other luxurious facilities with style and extreme comfort for the guests.
6. Ramada, Ajmer
A gorgeous venue for the weddings – Ramada, Ajmer is a lavish one where you will have multiple spaces for different functions. The property has 70 deluxe rooms, a sprawling lawn amidst the lush greenery to refresh the senses, banquet hall for intimate and grand parties, and inviting arena that is perfect for a royal wedding.
In the grandeur of beauty, backdrops, location, ambiance, and facilities, here are few of the wedding venues in Ajmer that can hosts up your events in a sovereign form according to your requirements by being in touch with best of wedding planners for your destination wedlock. So, if you are planning to get hitched, make sure to book the priorities for your unforgettable leisure.