Are you also planning to have a destination wedding in Udaipur? If, your answer is yes! Then, probably you won't regret visiting one of the most romantic cities for your wedlock.
Weddings are meant to be quite a special event in everyone's life. But, dealing in a smart way and having a budget-friendly affair without compromising on happening details is the keynote to consider.
Moreover, when you wish to have your wedding setup in the top-notch venue over the land of Kings and Queens with majestic royal palaces, forts, picturesque lakes and lots more in the background, then here you can check out some of the amazing destination wedding packages in Udaipur that will blow your mind to the core. And, while going thoroughly to the costs, locations, accommodations, and other details, you may find your desires covered in all.
High Rated Wedding Package
These packages of weddings are concerned to be the most luxurious ones with the fairy tale affairs. Properties, hospitality, and all the things inclusive in it are relevant to the seven stars and five stars rated hotels. And, the cost of per event may vary from 20 Lakh to 41 Lakh depending on the capacity of guests and arrangements done.
In Udaipur, the palatial royal weddings arrive under this category where locations are more probably HRH group of hotels, Lake Palace, The Leela Palace Udaipur, and Oberoi Udai Vilas. Whereas, in turn to accommodation for guests rooms can highly cost from 30,000 to 40,000 that can be divided between 3500-6500 per person with meals included.
Apart from food and rooms, decoration, laundry service, and other charges of the wedding are exclusive.
So, one can expect a highest royal wedding costing approximately 1Cr. to 3Cr where you can sum up everything for your guests.
Moderate Royal Wedding Package
Influential and preferable enough this wedding is also possible for the ones who wish to have a king size dream wedlock in a modest budget. This category sums up all the 3-4 star hotels where accommodations, meals, and other facilities are provided to the guests with a significant aspect of hospitality. Locations like Radisson Blu Udaipur, Trident, Chunda Palace, Ramada Resort, Ananta Resort, etc. are comprised for moderate royal weddings, if you go for a single ceremony at each event.
And, probably, if you have multiple ceremonies, then you can book one location like Oberoi Udai Vilas or the Leela Udaipur to accomplish the same within budget.
So far, one can consider the budget of this category of the wedding around 1Cr. or less.
Budget-Friendly Royal Wedding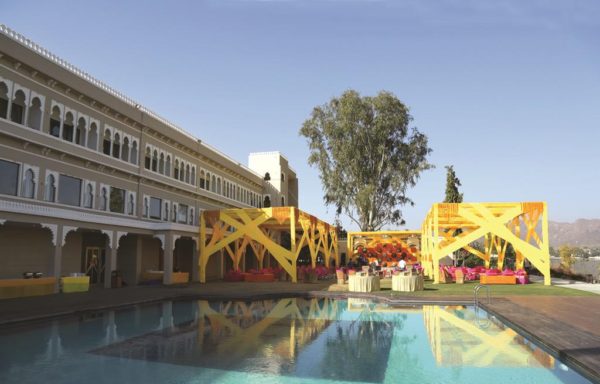 Act smart and work on specific facts while saving those extra bucks can be more reliable with this category of weddings. These weddings also include properties of 3-4 star hotels like Chunda Palace, Shourya Garh Resort, Royal Retreat Resort, Hotel Lakend and other lavish places with the most excellent amenities for your guests.
But, yeah! One thing to consider while having this type of destination wedding in Udaipur can cost more off travel expenses, which in turn a professional event planner or experts can cover from the accommodation of the guests.
And, these weddings can cost in the budget of 70-80 Lakhs approximately, which is a standard range of any grand Indian wedding nowadays.
So, before going up with the bookings of any of these destination wedding packages in Udaipur make sure to consider the best wedding planner or event professionals for a special day to make it more memorable.